In the first of a new series on holidaying in the Greek islands we look at the Sporades – including Skopelos, where Mamma Mia! was filmed – and Evia, the country's second largest island, where the Greeks go on holidays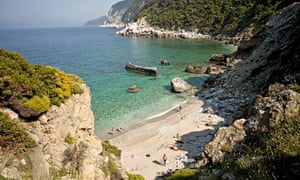 The Sporades, which stretch out into the Aegean off Greece's eastern coast, consist of 24 islands, but only four of these are permanently inhabited: Skiathos, Skopelos, Alonissos and Skyros.
Skiathos is the most-travelled of the islands thanks to its international airport, and its fame lies mainly in its sandy beaches. Away from the coast you can still find isolated hiking trails and the odd Byzantine monastery.
Skopelos is larger, but less visited than Skiathos. Its rugged scenery is perhaps more beautiful and certainly less developed. Its charms were celebrated in the film Mamma Mia!.
Much more rugged Alonissos lies in the middle of a marine park and is surrounded by a group on uninhabited satellite islands. Visitors have increased in the last decade or so, but it retains an exclusive air and some exceptional hiking routes.
Skyros is by far the least visited of the traditional Sporades, at least by non-Greeks (there is a domestic airport). Those prepared to find their way here, however, are amply rewarded by an atmosphere that blends traditional Greek village life with an increasingly trendy "alternative" vibe.
Although not strictly part of the Sporades, Evia also lies off Greece's eastern coast. The second largest island in Greece after Crete, and located conveniently close to Athens, it should be much better known (classicists might recognise it as Euboea). From its fertile north to the mountainous south it offers a wealth of travel opportunities.